Case study of a young 25 year old recently diagnosed with Diabetes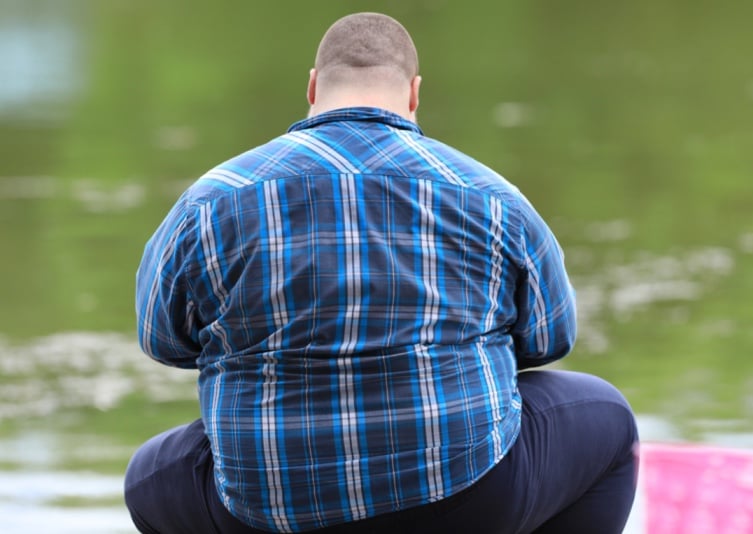 LIFE BEFORE ATMANTAN
A 25-year-old obese male had started suffering from Type 2 Diabetes mellitus since the last 2 years and was already on allopathic medication for the same. He also had complaints of Anxiety!
A recent study (U.K.) also shows that 1 in 8 new cases of type 2 diabetes is now occurring in the age group of 18-40-year-old as opposed to 1 in 10 back in 2000! The reason for this is usually either bad cholesterol or obesity.
HEALING JOURNEY AT ATMANTAN
This young guest as a type 2 diabetes case study, decided to start on his wellness journey by choosing to admit himself into Atmantan for our specialised Doctor guided programmes. Upon arrival, he had an in-depth lifestyle consultation and diagnostics where it was found that his:
Fasting Blood Sugar on arrival: 140 mg/dL which was not normal despite being on allopathic medication (Normal should be less than 100 mg/dL)
Postprandial sugar level: 160mg/dl which was not normal despite being on allopathic medication (Normal should be less than 140 mg/dL!)
He also suffered from morbid obesity at 148.2 kgs and anxiety
He constantly felt anxious and unable to sleep well at night (4-5 hours at a stretch) due to which he use to feel sleepy throughout the day.
The young man was put on a 7 Nights Weight Balance programme to help him begin his healthy transformation. He was prescribed various treatments including therapeutic ayurvedic ones, along with gut cleansing sessions. He was also advised on Pranic healing and mediation sessions to help him boost his mental health. For fitness, he was put on stretching, low-impact cardio along with yoga practices for Diabetes. There were some other body treatments and personal sessions also chalked in for him, all of which helped improve his insulin sensitivity.
For his diet plan, he was strictly prescribed a low carbohydrate high-fat plan that would both help lower the blood sugar levels in a natural manner and also create healthy a calorie deficit. He was also given Diabetic friendly shots along with essential NATURALS supplementation at meal times. He was immediately started on Dia Solve (to better manage blood sugar levels and lower insulin resistance), Fat Blazer (to enhance metabolism and support weight loss) and Relax Aid (as a mood balancer that also boosts happy hormones). He was also prescribed Pre Gut (to enhance gut health) was given on the day of departure.
HIS TRANSFORMATION | WEIGHT BALANCE | 7 NIGHTS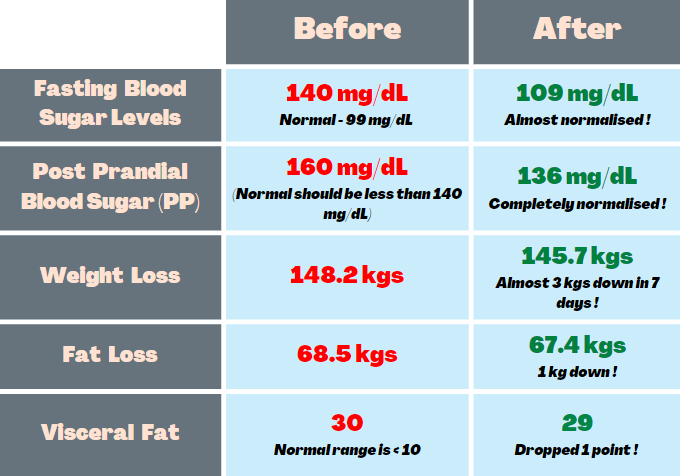 Please Note: These results may vary depending on body type and pre-conditions.
Even with diabetes, this guest managed to get results par excellence…
His Fasting blood sugar levels had now decreased to 109 mg/dl (without allopathic medication) from 140mg/dl (with medication) to 109 mg/dl. Not only had they almost normalised, he was learning to revive the natural healing of his bio-system as he got off his previous allopathic medications!
Post-prandial sugar levels were also normalised as they had dropped to 136 mg/dl from 160 mg/dl  (Normal should be less than 140 mg/dL!)
Even his weight had now dropped to 145.7 Kgs from 148.2 kgs which was an effective weight loss of 2.5 kgs in just a week!
He also had a fat loss of 1kg+ from 68.5 kgs to 67.4 kgs at departure.
Even his Visceral Fat had shown a positive change as it dropped one point from 30 to 29.
His sleep had improved (he was sleeping almost 6-7 hours at a stretch now).
While the guest knew he had a long way to go before he had normalised all his parameters, he felt extremely hopeful and motivated to get better now. He also signed up for Atmantan's Aftercare Programme and was determined to continue his transformation even as he returned to his work back home.