AYURVEDA PANCHAKARMA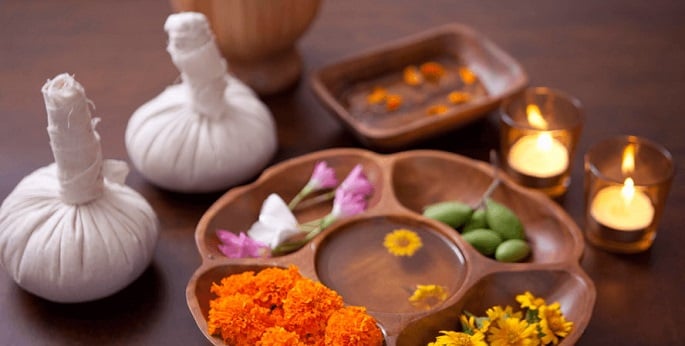 THE TRADITIONAL AYURVEDA PANCHAKARMA
AT ATMANTAN IS THE ANCIENT SCIENCE WHERE YOU DISCOVER, CLEANSE AND AWAKEN YOUR HEALING ENERGIES AND SENSES
The AYURVEDA PANCHAKARMA treatment in India is an ancient Vedic practice of healing. This traditional retreat at Atmantan is where you can partake in a journey of discovery, cleansing and awakening of your natural healing energies and senses.
PERSONALIZED TREATMENT PROTOCOL
Under the care of the highly skilled Ayurvedic Doctor at your initial consultation, your personality type or 'Prakruti' (Dosha based) and health concerns or 'Vikruti' get diagnosed, and from whence a personalized daily treatments schedule is formulated for you. Even the nutrition in this AYURVEDA PANCHAKARMA retreat is prescribed from our exclusive Ayurvedic Wellness Cuisine and is Dosha specific for you, to enhance your remedial inception. This cuisine in tandem with the Ayurvedic treatments deepens the effects of this ancient healing tradition.
BENEFITS of Ayurveda Panchakarma Retreat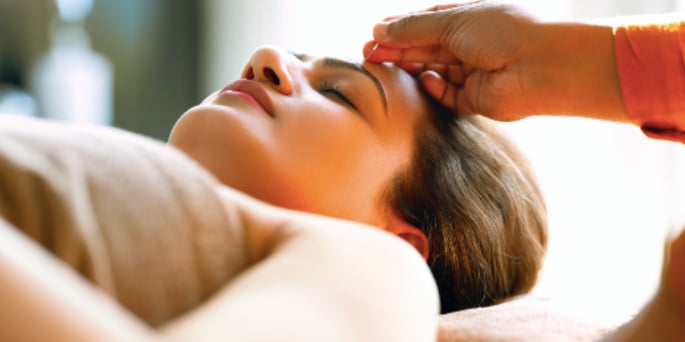 BENEFITS
Weight Loss
Improved Gut Health
Improve Joint and bone health
Boosts Metabolism
Improves Clarity of the Sense Organs
Improves Skin health
Anti-Aging and Longevity
Particularly recommended for…
Suffering from Arthritis
Obesity
Suffering from High Cholesterol
Stress
Insomnia
Diabetes
Fatty liver
Parkinson's
Rehabilitation
Degenerative bone diseases
Suffering from Menopause and Gynaecological issues
PANCHAKARMA IS…
The word 'Panchakarma' is derived from the two Sanskrit words – 'Pancha', which means 'five', and 'Karma', which means 'actions'.
The Panchakarma retreat procedure is a five-step process that detoxifies the human body and draws out the accumulated toxins within; these toxins build over time due to poor lifestyle habits, wrong food choices, illnesses and environmental pollution.
The methodology employed during the Ayurvedic Panchakarma treatment restores your natural healing capacity and significantly improves the quality of life. The 5 Shodanas (Cleansing Methods/Panchakarma) used at Atmantan are…
Vamana: Emesis
Virechan: Purgation
Snehavsti (Matravasti): Oil enema
Kashaya vasti (Asthapanavasti): Therapeutic decoction enema
Nasya: Nasal medication
Along with these Shodanas, the AYURVEDA PANCHAKARMA retreat at Atmantan also incorporates therapies of the…
Shirodhara,
Kativasti,
Januvasti,
Choorna Swedana,
Udvartanam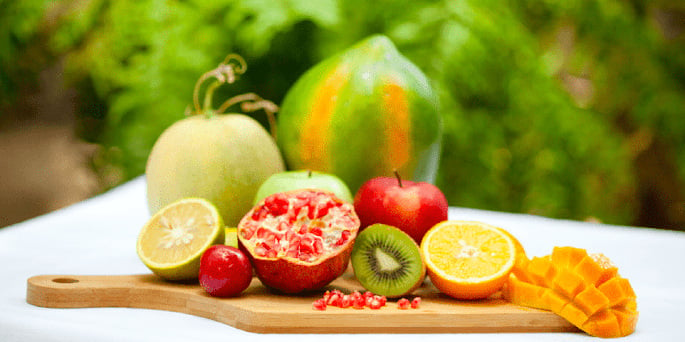 All these along with herbal and steam baths compliment the purification process of the body. All these wellness therapies are prescribed, monitored, and changed daily by the Doctor. These are tailored to the individual's receptiveness, desired results, and progress within the program.
The therapy rituals have you anointed with prescribed, hand-mixed, medicated herbal oils that are freshly prepared to restore the crucial inner harmony of the body and the senses. (At Atmantan, the Panchakarma treatment oils follow the traditional method of use and prescription to the exact precision, so as to extract the most potent therapeutic results for you.) These self-healing oils and therapies clean.se and purify you.
All this, along with the daily practice of Yoga that realigns the movement, and Meditation that helps you find that sacred space within… you experience the glorious harmonising of your Doshas and thorough restoration of your health and wellbeing. This age-old miraculous ritual of AYURVEDA PANCHAKARMA treatment is a deeply nourishing, enriching, and purifying practice that ultimately delivers to you a stronger body, clearer mind, and heightened intuition. This Ayurveda retreat at Atmantan follows the traditional Kairali principles. Our team of Doctors curate for you an authentic and prescribed traditional program, while the facility is that of a luxury Ayurveda retreat.
Ayurveda for Rejuvenation – Starts at 7 Nights
BENEFITS…
Anti-ageing,
Relaxation and Rejuvenation
Improved Hair Health
PARTICULARLY RECOMMENDED FOR…
Skin Health
Improved clarity of sense organs
Insomnia
Skin Health
Stress Management
Ayurvedic Panchakarma – Starts at 14 Nights
BENEFITS…
Complete Detox
Improves Metabolism
Gut Health
Pain Management
PARTICULARLY RECOMMENDED FOR…
Acidity
High Cholesterol
Diabetes
Degenerative changes, and Arthritis; (basically for all Vata, Pitta and Kapha related disorders.)
We are known to be an authentic Panchakarma resort, India.
Ayurveda for Weight Loss – Starts at 14 Nights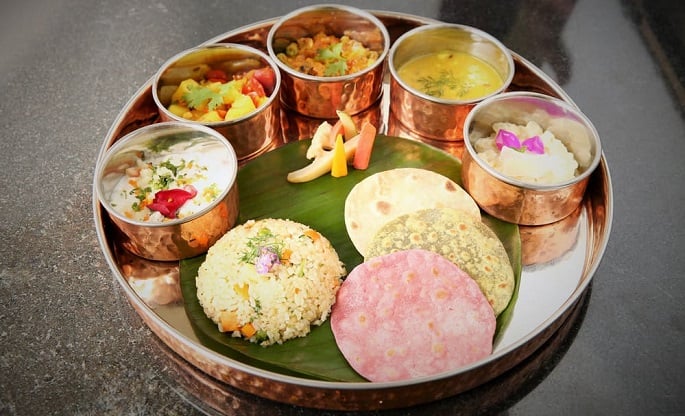 For those looking for obesity management, and a sluggish metabolism.
We are the most result-oriented Ayurvedic resort near Mumbai, regarding weight loss.
Your treatment plan will be prescribed by the consulting doctor based on your health conditions and symptoms. The inclusions mentioned below are indicative.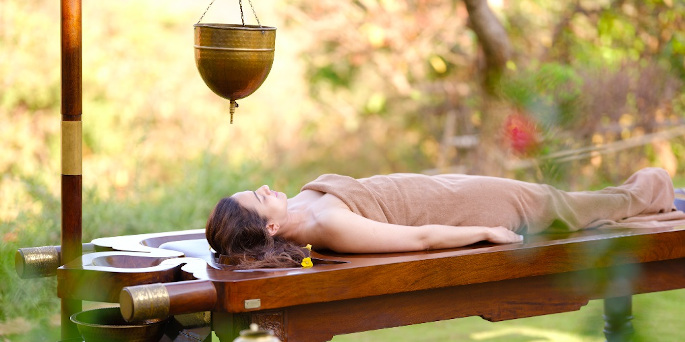 All our retreats are DOCTOR-GUIDED PROGRAMMES that address lifestyle ailments and many other conditions.​ ​These are ​comprehensive ​retreats that integrate protocols from natural ​& alternative medicine​.
If you have a CHRONIC HEALTH CONDITION or a symptom that you can't manage anymore, our ​D​octors are here to treat you​. By taking professional help, not only can ​you ​lower the impact of long term use of ​medicine, ​but also reduce the cost ​of your illness to your body & mind​.
Our MEDICAL TEAM WILL ADVICE you on ​the recommended duration of ​the ​program​me​ based on your ​wellness objectives​ and underlying health conditions. ​Your progress ​will be​ closely monitored by your consulting ​Doctor.
​Guests coming in for treatments have to submit their HEALTH & WELLNESS QUESTIONNAIRE at least 2 weeks prior to the admission request. ​​Atmantan Wellness Centre reserves the right to refuse booking requests if this form is not received with all the supporting medical records/documents.​ ​YOUR ​TREATMENT ​PLAN ​WILL ​BE ​PRESCRIBED ​BY ​THE ​CONSULTING ​D​OCTOR.​ ​The inclusions mentioned below are indicative​ in nature​​.
Atmantan is a NABH​ (National Accreditation Board of Hospitals & Healthcare Providers of India​)​​ accredited wellness centre. This accreditation resonates with our commitment to guest healthcare, safety & continuous improvement.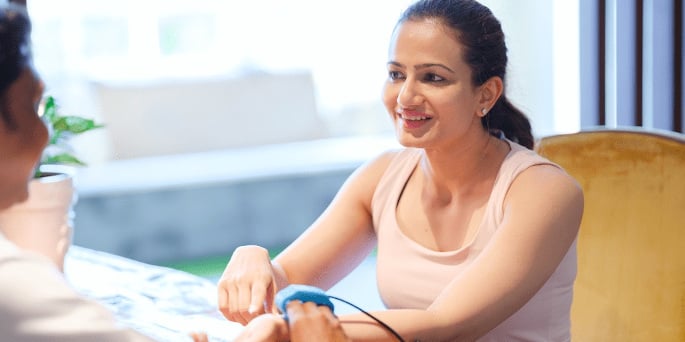 Ayurveda For Weight Loss And Heart Health Read & Share
Weight Loss & Management Case Study of a 36-year-old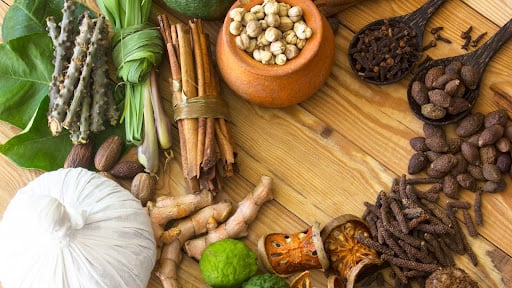 LIFE BEFORE ATMANTAN…
This young guest was suffering from high cholesterol and associated weight gain and this was especially visible in the abdominal area (central obesity). When he checked into Atmantan for 10 Nights, he was recommended the Ayurveda Panchakarma.
For this 36-year-old, upon his first wellness consultation he was advised to undergo an Ayurveda Panchakarma treatment to help reduce the visceral fat and also normalise the cholesterol levels. At first he was skeptical whether the treatments would really work for his cholesterol levels and weight loss.
HEALING JOURNEY AT ATMANTAN…
For this weight management case study, diagnostics of the Nadi tarangini (pulse diagnostic tool) was used, and this helped ascertain his present health issues also his nature and Dosha (i.e. pitta vata). He was on a prescribed Dosha meal plan (a kapha pitta pacifying diet) and there were various Ayurvedic Treatments prescribed to him daily. These included Virechana , Basti, Nasya, Udwartanam, Abhyanga, Pizichil, Patrapinda, Choornapinda etc.
HIS TRANSFORMATION | AYURVEDA PANCHAKARMA | 10 NIGHTS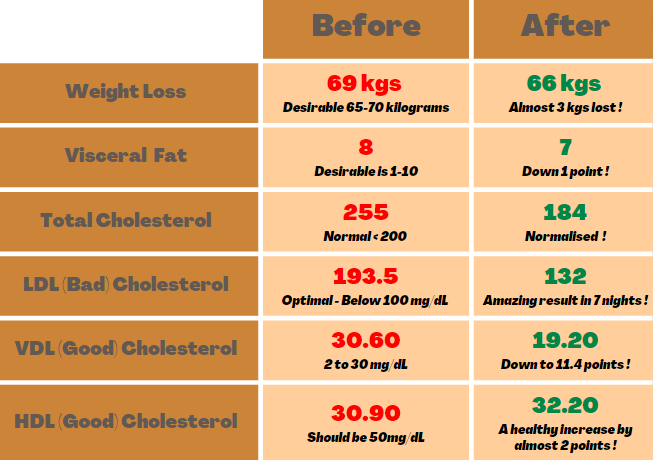 Under the strict guidance of the Doctors, a given at Atmantan, post his 10 days in the Ayurveda programme, he had achieved a healthy weight loss of 3 kilograms of Fat, and even his visceral fat reading reduced from 8 to 7. (He had come in with a weight of 69 kilograms, and a visceral fat reading of 8.)
His lipid test on departure showed fantastic results wherein his Cholesterol had reduced from 255 to 184 (it had normalized!) and his LDL had come down from 193.5 to 132, his VDL had come down from 30.60 to 19.20 and his HDL (good Cholesterol) had gone up from 30.90 to 32.20!
Along these spectacular results, the guest also returned home with a toned body and a grateful heart. He had had a supremely result-oriented programme, which is a signature Atmantan take-back, and the guest was now a believer in the ancient healing science of Ayurveda. Overjoyed by the results, he still religiously follows the routines and is in touch with the Atmantan Doctors. This became an inspiring weight loss and cardiovascular case study for all of us.