Weight Loss & Management Case Study of a 36-year-old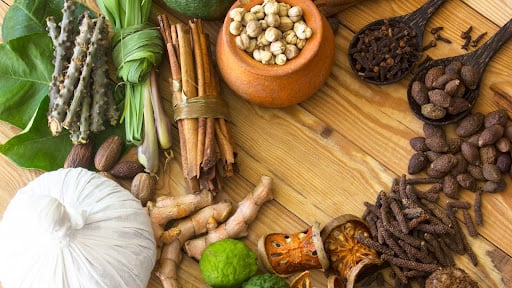 LIFE BEFORE ATMANTAN…
This young guest was suffering from high cholesterol and associated weight gain and this was especially visible in the abdominal area (central obesity). When he checked into Atmantan for 14 Nights, he was recommended the Ayurveda Panchakarma.   
For this 36-year-old, upon his first wellness consultation, he was advised to undergo an Ayurveda Panchakarma treatment to help reduce the visceral fat and also normalise the cholesterol levels. At first, he was sceptical about whether the treatments would really work for his cholesterol levels and weight loss.
HEALING JOURNEY AT ATMANTAN…
For this weight management case study, diagnostics of the Nadi Tarangini (pulse diagnostic tool) was used, and this helped ascertain his present health issues also his nature and Dosha (i.e. pitta vata). He was on a prescribed Dosha meal plan (a kapha pitta pacifying diet) and Naturals Supplements of Omega 3 Fatty Acids (for general & cardiac health), Fat Blazer (for improved metabolism) and Anti-Ox3 (Arrests & reverses oxidative damage at the cellular level). There were also various Ayurvedic Treatments prescribed to him daily; These included Virechana, Basti, Nasya, Udwartanam, Abhyanga, Pizichil, Patrapinda, Choornapinda etc.
HIS TRANSFORMATION | AYURVEDA PANCHAKARMA | 14 NIGHTS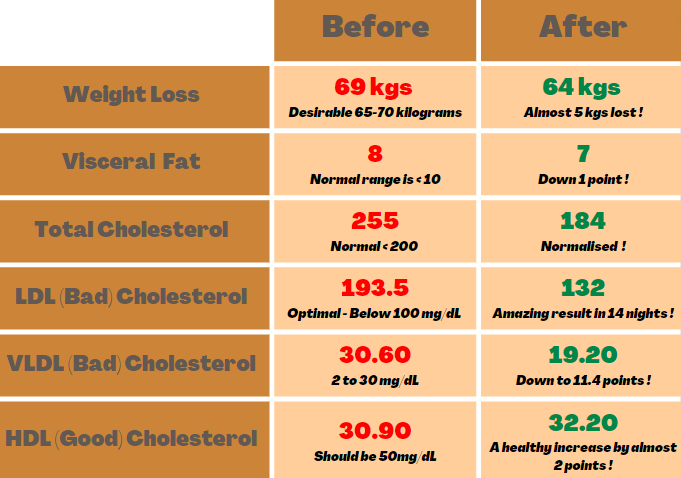 Please Note: These results may vary depending upon body type and pre-conditions.
Under the strict guidance of the Doctors at Atmantan, post his 10 days in the Ayurveda programme, he achieved fabulous results…
A healthy weight loss of 5 kgs, and even his visceral fat reading reduced from 8 to 7. (He had come in with a weight of 69 kgs, and a visceral fat reading of 8.)
His lipid test on departure showed fantastic results wherein his Cholesterol had reduced from 255 to 184 (it had normalised!) and
his LDL had come down from 193.5 to 132,
his VDL had come down from 30.60 to 19.20 and
his HDL (good Cholesterol) had gone up from 30.90 to 32.20!
Along with this spectacular transformation, the guest also returned home with a toned body and a grateful heart. He had had a supremely result-oriented programme, which is a signature Atmantan take-back, and the guest was now a believer in the ancient healing science of Ayurveda. Overjoyed by the results, he still religiously follows the routines and is in touch with the Atmantan Doctors. This became an inspiring weight loss and cardiovascular case study for all of us.