Palpitations, Regurgitation Stopped & Gait Corrected By Successfully Tackling Morbid Obesity Read & Share
Case Study on Palpitations, Regurgitation & Gait Issues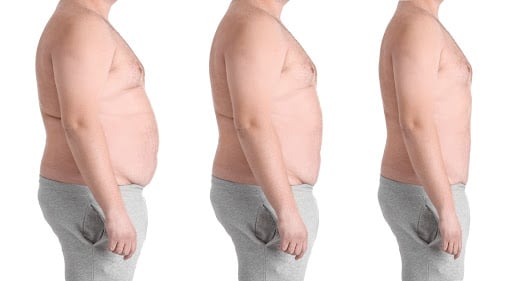 LIFE BEFORE ATMANTAN…
A 17-year-old boy who was diagnosed with class III obesity (BMI of 40 or higher) associated with borderline high blood pressure got admitted to Atmantan. He had gained weight basically due to a sedentary lifestyle and overeating.
He had also been suffering from frequent migraine attacks. Symptoms also included him feeling palpitations and breathlessness even on mild to moderate exertion, use to regurgitate whenever he had had a heavy meal! Besides all this, he also wasn't able to physically cope-up with his day-to-day activities. He had been suffering from these for a while, and this had now made him more anxious… he decided to finally come to Atmantan for a transformation.
HEALING JOURNEY AT ATMANTAN…
On admission, the Doctor ran diagnostics and learnt that his blood pressure was 138/88mmHg (Normal should be 120/80 mmHg) and his Body Mass Index (BMI) was 47.8 (Normal BMI is between 18.5 and 24.9). After taking a detailed case history, our Doctors put him on the Yuva retreat for 28 days. The clear objective was to work on improving all his lifestyle habits while also educating him on the importance of routine exercise and healthy eating practices.
During his programme, he was put on an integrated fitness regime that included activities like trekking, boot camps, HIIT, agility training, cardio exercises, swimming sessions, private stretches, and personal training, along with Yoga and meditation sessions. He was also prescribed a few deep muscle treatments to manage the delayed onset muscle soreness and to improve joint mobility, along with Colon hydrotherapy. 
Besides exercises and treatments, he was put on a diet plan that included phases of low carb, moderate fat and high protein diet along with a detoxification diet. Along with all this, he was also put on Naturals' herbal supplements of Gastro Care (For relief from gastritis & indigestion), Omega 3 (Essential fatty acids for cardiac health), Anti-Ox3 (Powerful lipid anti-oxidative formula), Digestive Enzymes (For improved digestion and gut health) and Fat Blazer (To curb cravings and improve metabolism).
His results as expected were truly impressive.
HIS TRANSFORMATION | YUVA EDITION | 28 NIGHTS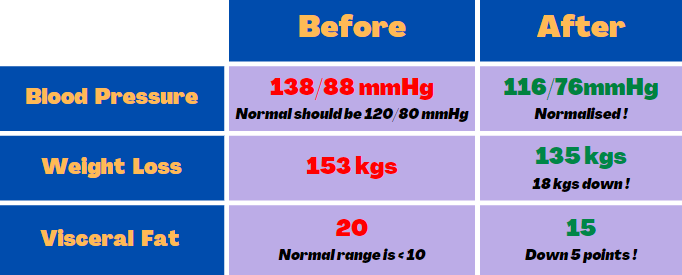 Please Note: These results may vary depending upon body type and pre-conditions.
At the end of his retreat of 28 nights, he had nearly lost around 18 kgs (Almost 650 grams a day)! There was a significant reduction in his visceral fat as well, which came down from 20 to 15! His BMI was brought down from 47.8 to 42.2. There was a great reduction in his fat mass along with a decent increase in his muscle mass too.
What was also superb was the fact that this overall weight loss has also helped improve his symptoms of breathlessness and palpitations. Even the migraine attacks had now significantly reduced in frequency and intensity. The brilliant turnaround also came with his food cravings that were now under control; He was satiated with his prescribed meals and the controlled portions, all of which eradicated his regurgitation. Thanks to his new healthier self, he was also able to keep his energy levels high and improve his gait.
What was truly inspiring in this obesity case study, is that his entire outlook on life had now completely changed; he had lost his double chin, his face looked naturally sculpted, he had dropped 4 sizes and had become very confident about himself. At a young age, he had now learnt to take charge of his life in a healthier and more informed way!