Case Study on Treating Diabetes and Dyslipidemia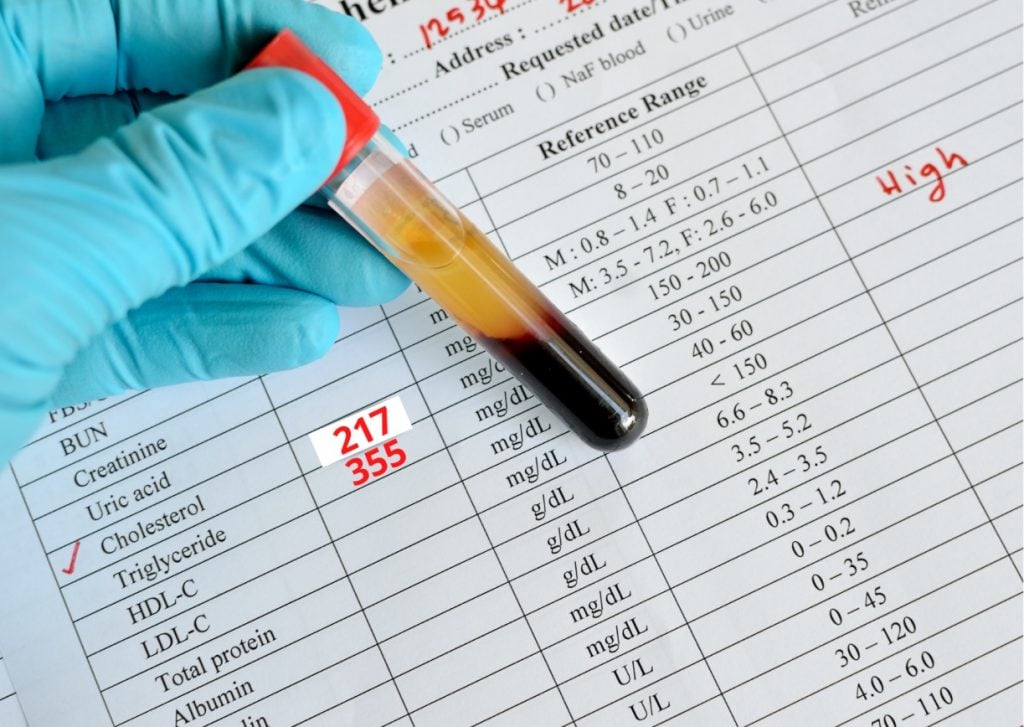 LIFE BEFORE ATMANTAN
A 43-year-old lady got admitted to Atmantan. She was diagnosed case of uncontrolled Diabetes and High Triglycerides (Lipid Imbalance-Dyslipidemia). She had been refusing all allopathic medications and was sincerely looking for alternative ways to manage her condition; She as a person was also very receptive to lifestyle modifications and herbal medicines too. This is why she chose to come to Atmantan looking for disease reversal!
HEALING JOURNEY AT ATMANTAN
After an in-depth consultation with our Doctor, she was put on a 10-night Master Cleanse retreat. As a part of her retreat programme, she was given cleansing therapies, Yoga therapy for Diabetes and other anti-inflammatory treatments to reduce both her visceral fat and Insulin resistance. She was also put on a prescribed diet that consisted of low carbohydrates along with recommended fats and fibres.
She was also started on Atmantan Naturals supplements of Dia-solve to reduce insulin resistance and adipose tissue inflammation, Anti Ox 3 to help improve the good cholesterol and also reduce inflammation, Pre Gut (Prebiotics) to expel the bile acids thereby also reducing cholesterol, Curcumin+ (anti-oxidative and enhances the immune system) and Nutri Liver (for liver detox). 
The results of the diabetes case study were truly heartening.
HER TRANSFORMATION | MASTER CLEANSE | 10 NIGHTS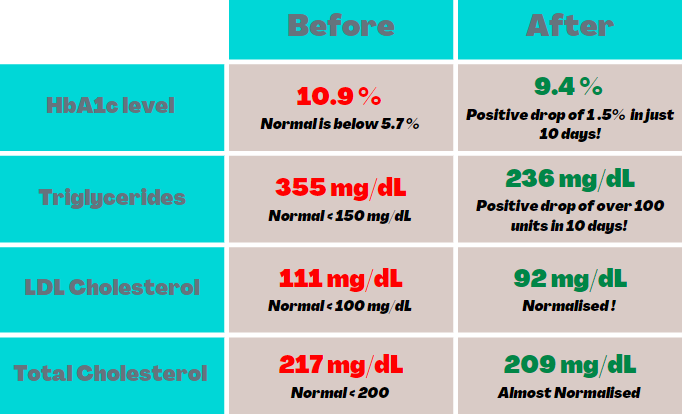 Please Note: These results may vary depending upon body type and pre-conditions.
Her HbA1c dropped from 10.9% to 9.4% in just 10 days! (Normal is below 5.7%)
Her Triglycerides dropped from 355 to 236 mg/dL (Normal should be less than 150).
And her LDL Cholesterol (bad cholesterol) dropped from 111 to 92 mg/dL (normal readings should be less than 100).
And her Total Cholesterol dropped from 217 to 209 mg/dL (normal should be less than 200).
While some readings had absolutely normalised, her glucose levels were also seen to be steadily improving. Very happy with her results and transformation, the guest was determined to keep up with the learnings from Atmantan and this had further cemented her faith in alternative healing sciences!
At departure, post her 10 days stay at Atmantan, she was given a follow-up diet and lifestyle programme by the Doctor.