Hypothyroid & Weight Loss Case Study of a 49-year-old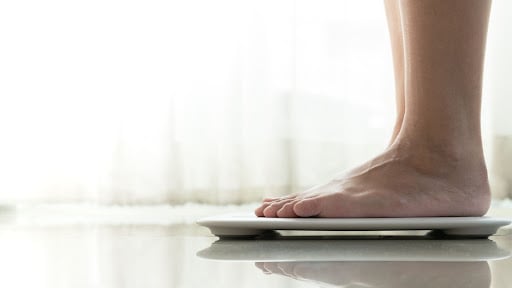 LIFE BEFORE ATMANTAN…
This young lady guest had been diagnosed with hypothyroidism 3 years ago & was on prescribed medication of Thyronorm 75 mg per day.
As a 49-year-old, she was naturally also worried about the associated weight gain (she came in at 78 kgs) and had come to Atmantan looking for a solution. Despite having followed a low carbohydrate diet in her daily life, she had failed to see any results and hence was also looking for a treatment of the root causes and diet plan.
She was a very sincere and receptive guest when it came to sticking to the plan curated for her; the doctors ran diagnostics of Body Composition Analysis and Resting Metabolic Rate to understand the muscle and fat scoring and energy balance. Post analysis, she was put on a personalised treatment protocol, along with Naturals' supplements (Thyrocare, and Pre-Gut from the Atmantan Naturals' nutraceuticals).
HEALING JOURNEY AT ATMANTAN…
She planned her stay for 14 Nights and was on the Weight Balance Retreat. She was started on a high-fat low-carb diet with probiotics & healthy shots including anti-inflammatory, and digestive shots throughout the day to improve gut health.
The treatment program was customised to include a mix of naturopathic, Ayurvedic and detoxifying scrubs and therapies. Personal and physiotherapy training sessions were a mix of active stretching, core strengthening, fat-burning & metabolism-inducing workouts.  Along with these, the guest was also participating in cardio and de-stressing daily activities at Atmantan like aqua jam, yoga & meditation!
HER TRANSFORMATION | WEIGHT BALANCE | 14 NIGHTS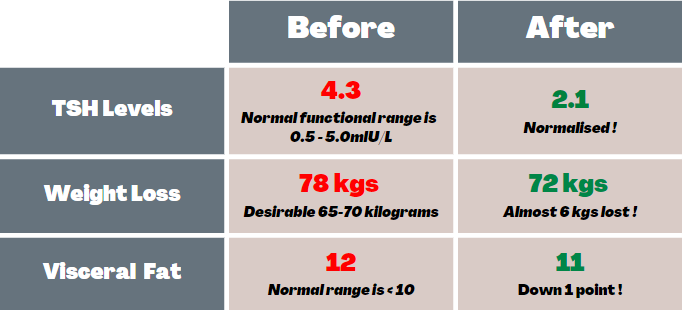 Please Note: These results may vary depending upon body type and pre-conditions.
She, being cooperative, had followed the given protocol to the tee, and was rewarded for her hard work with an incredible weight loss of 6 kgs (weight reduced to 72 from 78 kgs) and this included a total fat loss of 4 kgs. Even her TSH normalised (Reduced from 4.3 to 2.1), along with a reduced visceral fat reading that lowered from 12 to 11! These were fabulous results for a hypothyroid case study.
The guest had tried to lose weight all along but had never been successful and was extremely grateful for the diet & treatment protocol that made her feel lighter, and energetic through the day with significant symptomatic relief! She returned home feeling accomplished, with Naturals' supplements, a customised diet plan and superior health… she now knew how to better manage her symptoms and continue on her wellness journey even at home!