Making the IRONMAN a wellness lifestyle!

Cycling on the old Mumbai Pune highway on my Italian beauty, Colnago, at the speed of 38KMHR, I couldn't help but be aware of a burgeoning stillness within me. These long rides seemed to be turning into meditative experiences for me! Let me try and explain this…
So once I was out of the city and onto the (nearly) empty state highway, the exhaustion of the legs simply gave way to an exquisite feeling of calm & self-awareness. I felt at peace… a sensation devoid of doubt or anxiety came over me. The mind became crystal clear and I could suddenly see through a lot of my niggling issues. The feeling was of when one places that final jigsaw piece or when that last clue, cracks open a CSI case… this happening in my mind's motion screen of course. Seeing my life simplifying in slow motion in my mind's eye surely felt like finding the OM within! What had started off as a physically challenging training program was surprisingly turning out to be a rewarding holistic experience that would change me forever.
As said by someone famous "the thing about meditation is that you become more and more like you". This for me sums up my bike rides real nice.
Fast Forward 2 months… midst loud cheers and beats, I see the man with the mike on the red carpet say those coveted words to me, "Congratulations, You are an IRONMAN!" Yes, I had again made it to the finish line of the IRONMAN Triathlon! (Kalmar, Sweden in Aug 2016).
The IRONMAN triathlon is regarded as one the toughest sporting event globally and hence the name. This triathlon with its 3.8 km swim, 180 km bike ride and 42.2 km run (all to be completed within 16 hours from the start of the race) has without a doubt for me been one of the toughest tests of grit, endurance, discipline and, mental fitness. When I finished my first one in 2014, I swore to myself that I would never to go back to this mentally and physically challenging race. But here I am racing my third on August 20, 2017 in Copenhagen, Denmark!
 
Working out has always been a part of my life, whether it was sports like squash, golf orcricket in my teens and then some strength training and roads running in my 20s. Not many know that my dad (ex-army) has been a sportsman all his life, (he played Junior Badminton Nationals & Squash Nationals) and as I look back today, I realise how he has been instilling this value for fitness and a love for the outdoors in me since forever!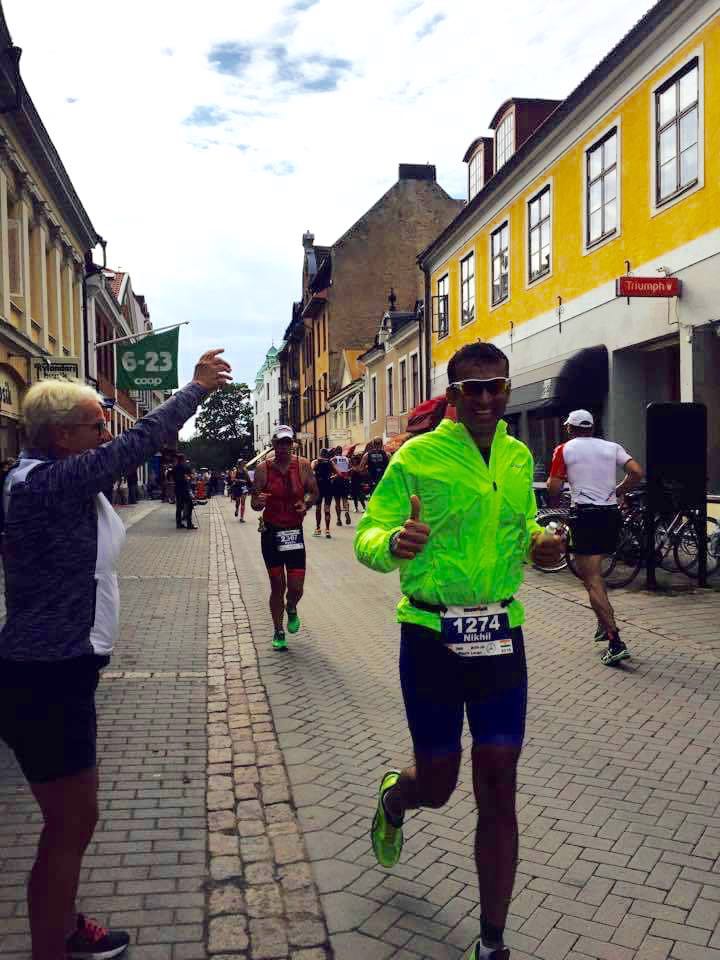 In my 30s, I took up running in a big way and did a couple of marathons as personal milestones too. Right around this time (2012) I came across the IRONMAN triathlon. I must say I was mad impressed with the sheer stamina this kind of a triathlon required… I was 35 at this point and couldn't even justify this as a mid life crisis!!

I started reading up on it and started unconsciously strategizing my workout plan (I am a chronic planner and researcher which more often than not, works in my favour) and the more I read and saw, the feeling of this being a human's ultimate physical and mental milestone took over me, (this was slowly looking like my 'Mount Everest'). Very soon it was all about the semantics for me… get a trainer-check, play to my strengths i.e. running–check, start turning in at 9am and start training at 5am-check, give myself a solid six months of training… well before I ticked/checked this one, I need to have 'the talk' with the wife and family-DAMN.

The research I spoke of earlier also explicitly mentions that if one attempts an event as taxing as the IRONMAN, one cannot do the same without the support of his/her family. Still my mind was made up and I decided there was no better time than the present to tick this bit too:
"Shammi (my wife then and remains to date), I was thinking of doing the IRONMAN"
"What the movie?"
"No this is the 'world's most challenging endurance triathlon' event"
"Are you kidding me?! Why?"
"Shammi, I want to do this and the thought that I can is amazing!"
"Look Nikhil, while you are it, please know that you cannot back out of any house chores or get out of dropping Kiyan (my son) to school every morning"(okay I am adding a few words here and there but the documentation of such always helps a married man!)
After a bit of back and forth, the family finally agreed and I started my training with Nate L., an award winning professional tri-athlete, swimmer, cyclist &an IRONMAN himself. Training for an IRONMAN starts with 8 hours of training a week and eventually goes up to 25 hours of training a week. Naturally both my wife and I didn't realize what happens when you actually say YES to training for an IRONMAN!!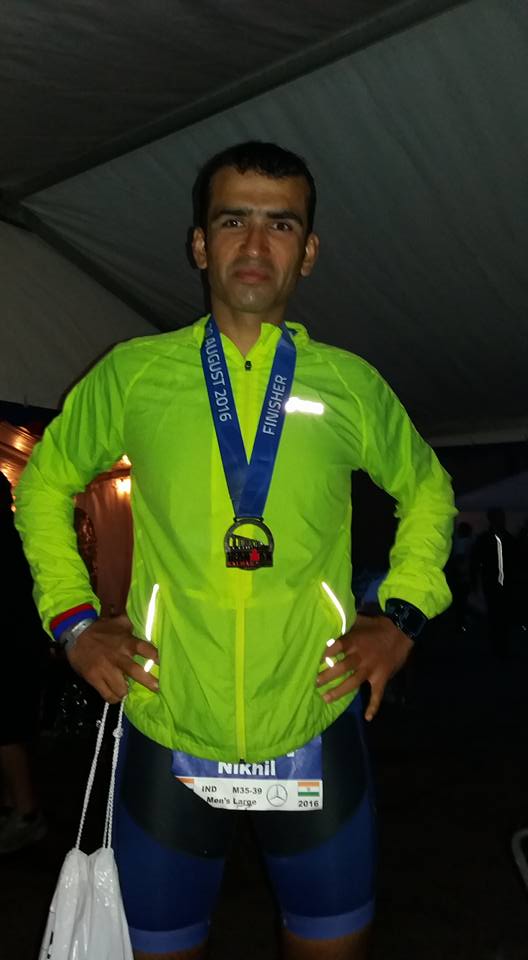 The great thing about the IRONMAN triathlon is that it takes place all over the world (barring India, and a few other countries yet) so one can choose their preferred race destination and enroll for the same in advance. I chose Auckland, New Zealand 2013 for my first 70.3 (Half IRONMAN), followed by full 140.6 Miles in Zurich 2013, Switzerland , then a full 140.6 Miles in Kalmar 2016, Sweden and now in Copenhagen, Denmark. I haven't completed Copenhagen, but I am already picking a course for next year – Frankfurt/Lake Placid etc.
What my most astonishing take-back from these races was that the IRONMAN is addictive. It becomes a way of living and this sense of achievement parallels very few of life's moments.
Today being a FATHER to my 8-year old boy defines my life and the decisions I make in it every day… the IRONMAN also in its unique way defines my fitness regime, entality and approach to wellness… and ATMANTAN rightly culminate everything in wellness lifestyle that I can offer to the world!
The fact remains that the IRONMAN is truly a lifestyle… and while it has become just that for me, Atmantan is that ideal retreat destination, where people incorporate holistic and integrated wellness lifestyles… for me every person partaking in this wellness journey is his own ironman! After all it's not really about the 'metal' but one's true 'mettle'.
#ironman #wellness #health #swimming #cycling #running #lifestyle #healthgoals #atmantan #betransformed #triathlete #om #travel #yoga #travelforwellness