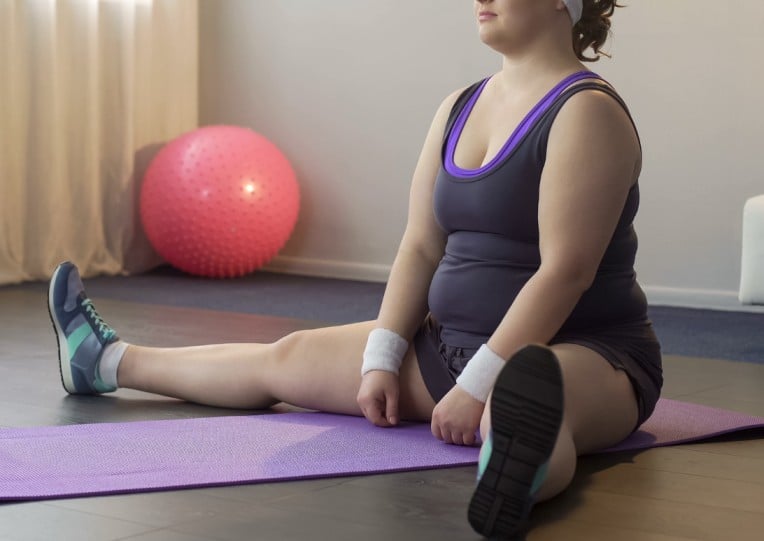 LIFE BEFORE ATMANTAN
A 34-year-old lady guest (a lecturer by profession) had been suffering from PCOD (along with endometriosis) for the last 10-12 years. With complaints of painful bleeding, irregular cycles and stress, she had been to her gynaecologist several times in the last decade and taken multiple medicines, but nothing had seemed to help her. She had now chosen to visit Atmantan hoping to work on her health.
HEALING JOURNEY AT ATMANTAN
Upon her arrival, she had a detailed Doctor consultation. She also shared that her gynaecologist had assured her that after the birth of her first child, her symptoms would reduce, but post labour she had gained a lot of weight and the symptoms had only become worse. As per her, the menstrual flow use to last for about 7-10 days and the cycle would reoccur every 26 days. The pain however on the bleeding days would be a 9 (with 10 being the maximum on the pain scale)!
Naturally, her quality of life was hugely impacted due to this. She had to take 3-4 days off every month during her menstrual cycle, which felt very stressful. At times she also felt insecure about losing her job.
Because she had heard highly of the disease management programmes at Atmantan from a friend, she was glad that she was finally here for a 14 days retreat. After her detailed consultation, she was put on the Master Cleanse retreat.
Her initial body composition analysis showed that her weight was 85 kg, which included a Fat mass of 38 kg, a Muscle mass of 42.2 kg and a water percentage of 42% which was lower than average. (normal range for women varies between 45-60%). Her visceral fat was also high at 14 (Normal range is 1-12). Her blood reports showed that her HbA1c levels were high as well at 7.1 (normal range should be below 5.7) and her Estradiol levels were at 600pg/ml (Normal levels for Estradiol are 30 to 400 pg/mL in premenopausal women).
On this cleansing and detoxification retreat, her treatments included Colonics pelvic massages with therapeutic oils, Chi Nei Tsang to clear the blockages from the system, and abdomen packs to mention a few. She was also prescribed acupuncture sessions for pain reduction and hormonal stability.
For fitness, she was participating in low-intensity activities such as yoga, and aqua sessions along with meditation and counselling sessions.
As for her diet, she was on a gluten-free, lactose-free plan with anti-inflammatory foods. She was also started on seed cycling. This diet was supplemented with Naturals' nutraceuticals of Easy Flow (to reduce cramps and improve the menstrual cycle), Dia-Solve (to improve insulin sensitivity and better manage sugar levels) and Fat Blazer (to improve fat metabolism).
HER TRANSFORMATION | MASTER CLEANSE | 14 NIGHTS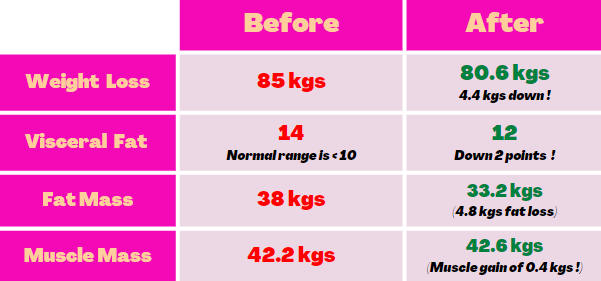 Please Note: These results may vary depending upon body type and pre-conditions.
At the end of 2 weeks, she had lost 4.4 kgs (down from 85 to 80.6 kgs)! This included a pure Fat loss of 4.8 kgs and a Muscle gain of 0.4 kgs! Visceral fat levels had also dropped by 2 points from 14 to 12 and normalised! Even her HbA1c levels were now at 6.7 (from the initial 7.1) and the Estradiol levels had also improved to 480 pg/mL from 600 pg/mL (Normal levels for Estradiol are 30 to 400 pg/mL in premenopausal women)! These were some phenomenal results!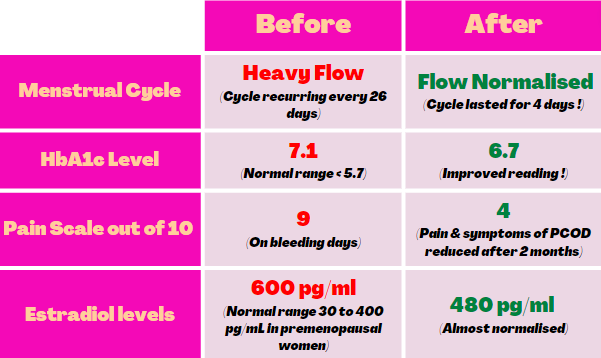 Please Note: These results may vary depending upon body type and pre-conditions.
As she stayed in touch with the Doctors even after departure, the follow-up showed her improving month on month; after 2 months, her PCOD symptoms had significantly reduced. She informed the Doctor that her pain intensity had also come down to 4 (from the previous 9/10!). Even the bleeding had become lighter (with fewer clot formations) and only lasted 4 days (instead of the previous 7-10 days). All in all, much to her relief she had noticed positive changes wherein her cycle seemed to have become more normal and predictable!
She no longer dreads that time of the month and continues to stay motivated as she religiously follows the prescribed diet and continues with the improved lifestyle (as far as possible).
Similar Case Studies