Weight Loss Case Study: Battling Osteo Arthritis & IBS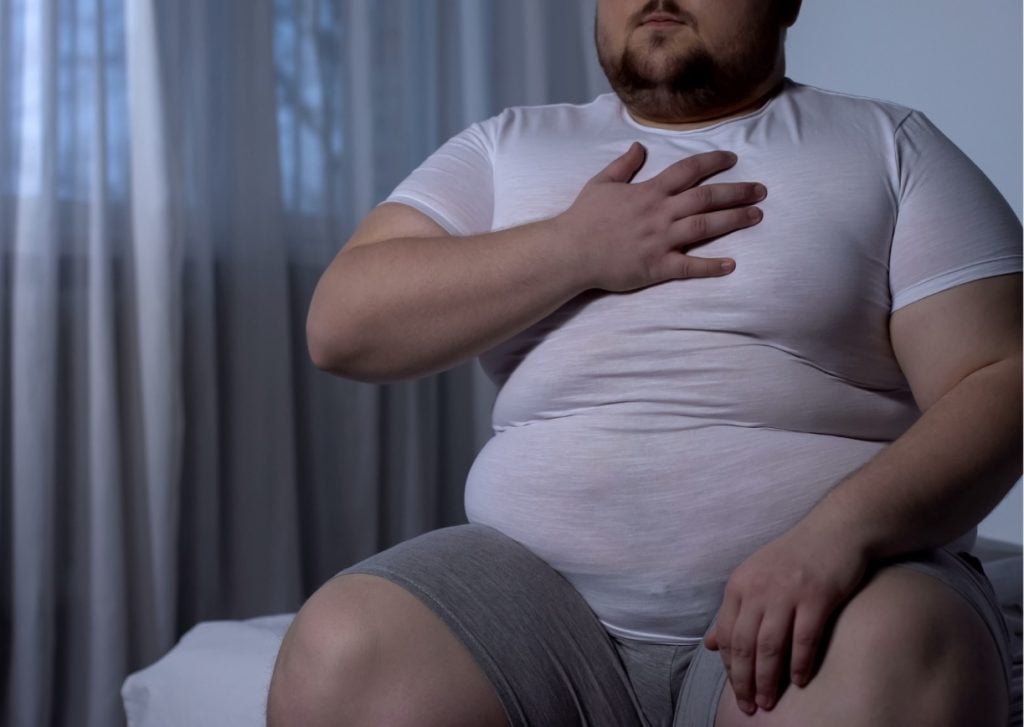 LIFE BEFORE ATMANTAN
This 21 year old young man came to Atmantan looking for relief from his osteoarthritis and a consequent weight gain. He also had been suffering from childhood Asthma (since the age of 5). Along with all this and thanks to his hectic lifestyle, he was also suffering from gastric issues such as bloating, burping flatulence along with disturbed sleep.
HEALING JOURNEY AT ATMANTAN
He was admitted to Atmantan Wellness Centre, and after running diagnostics and consultation, the guest was found to have symptoms of IBS (irritable bowel syndrome) and all this had further aggravated due to lack of sleep. Hence, he was prescribed the 28 nights Master Cleanse retreat.
He was prescribed personalised sessions of yoga, meditation and physiotherapy along with cleansing therapies and alternate healing sessions. He was also put on a liquid diet for a few days followed by a grain-free diet to combat the inflammation. He was also having an in-house indigenous therapeutic herbal formula for insomnia, gut health and pain management. His diet was also supplemented with Atmantan Naturals Relax-Aid (for sleep), Gastro Care (for gut health), Digestive Enzymes (for improved absorption and gut health), Boswellia Max (for joint and cartilage health) and Natflam 6 (for systemic inflammation).
HIS TRANSFORMATION | MASTER CLEANSE | 28 NIGHTS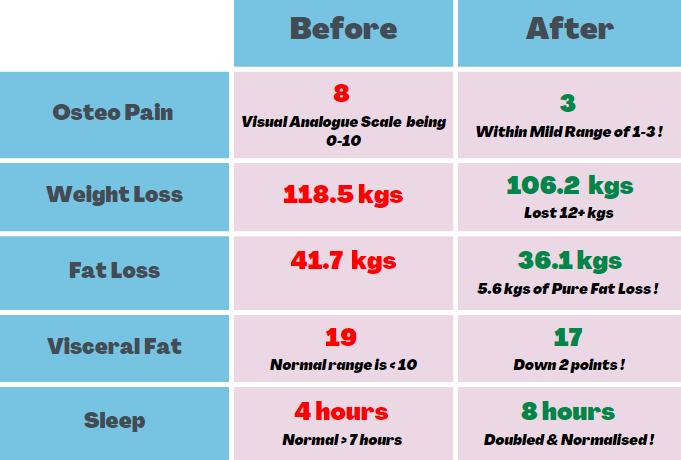 Please Note: These results may vary depending upon body type and pre-conditions.
The results in this weight loss case study needless to say were incredible.
Towards the end of his retreat, all symptoms of gastric irritation had subsided, even his acidity and bloating were gone! (His bowel movement was regularised too).
His sleep had doubled to 8 hours of restful shut-eye instead of the 4 hours he use to get. Even his osteon-induced pain had reduced on the visual analogue scale for pain from an 8 (very severe pain at arrival) to a 3 (mild pain) at departure!
Along with this he also managed to achieve a 12.3 kgs weight loss (from 118.5 to 106.2 kgs) which included a fat loss of 5.6 kgs (From 41.7 to 36.1 kgs)! and the Visceral fat had successfully dropped from 19 to 17!
We were all so proud of this guest for his commitment and his reward was the brilliant results he has seen in less than a month! He had been listening to the Doctors here and was ready to take on this improved lifestyle back with him home.