A 78 year old'd shoulder pain case study, where he also suffered from high cholesterol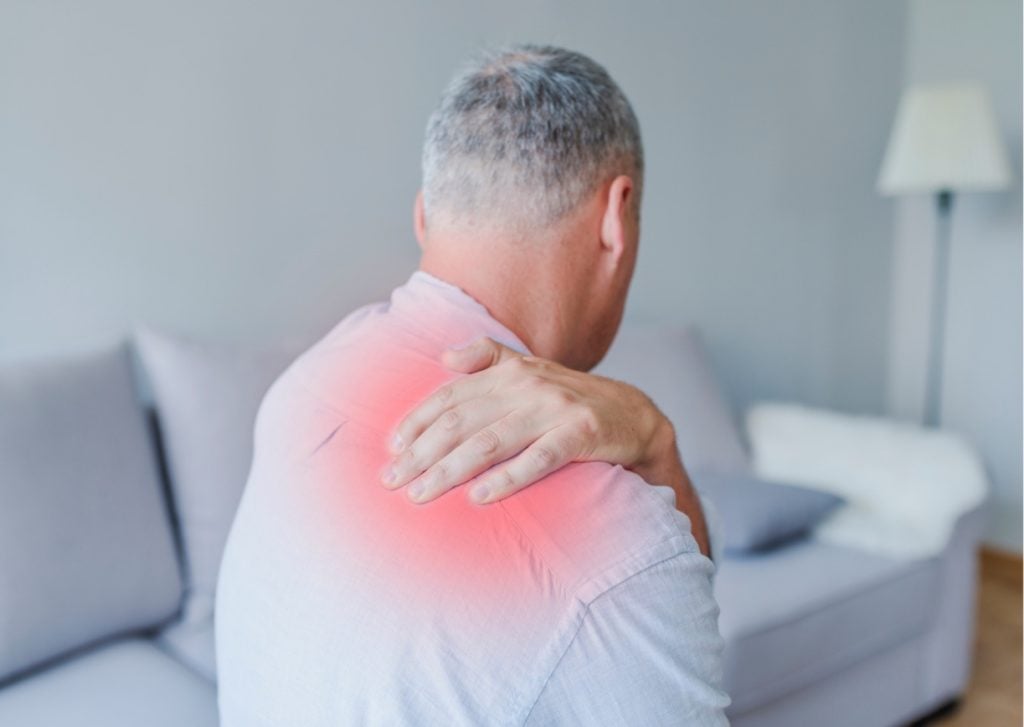 LIFE BEFORE ATMANTAN
A 78-year-old well-travelled male guest came with the complaints of severe shoulder and neck pain associated with neck stiffness and restricted movement of shoulder joint as well. He also has severe body ache with fatigue throughout the day. He was also on statins so as to keep a check on his cholesterol.
HEALING JOURNEY AT ATMANTAN
After his initial Doctor consultation and diagnostics he was advised to undergo a 10-nights Restorative Physiotherapy Retreat. He was started off on a combination of acupuncture and physiotherapy.
It was diagnosed that his shoulder pain and disability index pre-treatment was around 47% and his range of motion in shoulder joint was highly restricted. He was looking forward to some much needed relief as he knew his current condition was more a lifestyle induced than the cause of ageing. He also wanted to learn how to treat shoulder pain and improve his movement.
His prescribed diet was a low carbohydrate, low fat one with moderate protein while keeping him away from any cholesterol spike. Along with this anti-inflammatory diet, he was also put on supplements of Natflam (to combat systemic inflammation), Boswellia Max (to reduce pain and swelling in the joints), Dia-solve (to improve glucose-lipid metabolization) and Nutri Liver (to improve liver health). He had all this in conjunction with healing Ayurvedic therapies which together with physiotherapy, helped relaxed his muscles. The alternative modalities started easing his pain and significant changes started appearing in the range of motion!
HIS TRANSFORMATION | RESTORATIVE PHYSIOTHERAPY | 10 NIGHTS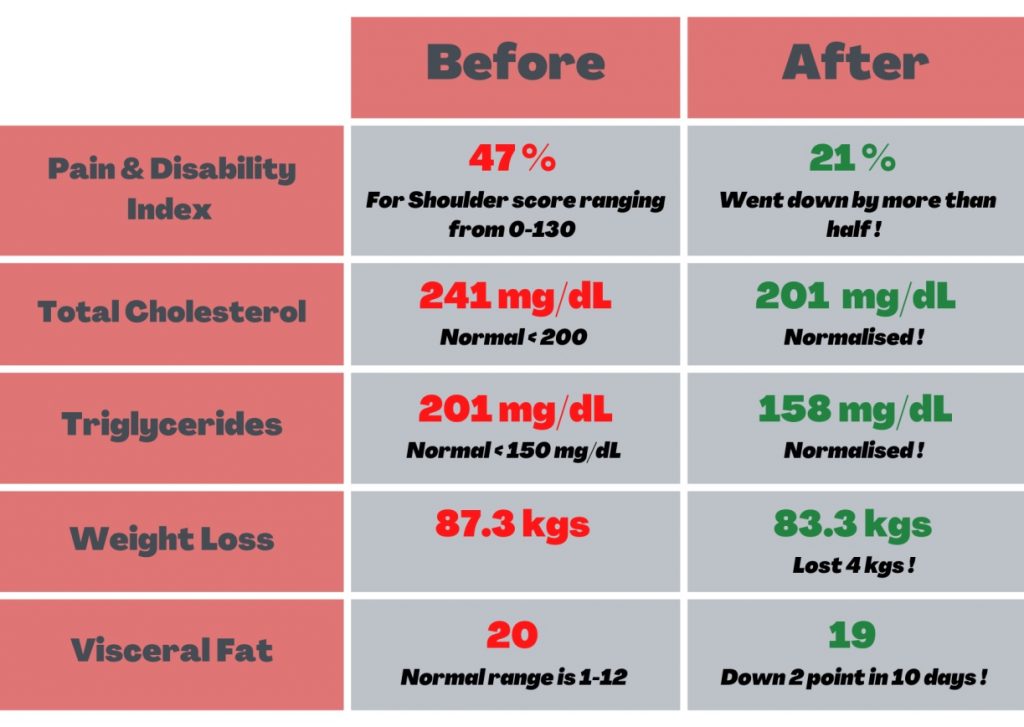 In just 10 days there was a remarkable change in his pain scale and range of motion.
His shoulder flexion increased from 120 to 160 degrees; his extension improved from 20 to 30 degrees; and his adductions got from 10 to 20 degrees and 60 to 80 degrees. Even his shoulder pain and disability index which was 47% initially had gradually reduced to more than half and was down to 21%!
Even his total cholesterol which was 241 mg/dl at the time of admission had reduced to 201 mg/dl! His triglycerides that was 201 mg/dl at the time of admission had reduced to 158 mg/dl! Along with all of this, his weight parameters had also improved; the above results were accompanied with a 4 kgs of weight loss (From 87.3 down to 83.3 kgs) along with a reduction in the Visceral fat reading of 1 point (from 20 it had now dropped to 19).
Needless to say, this became a neck pain case study as well and the guest returned home with improved health, spirit and this well-earned transformation.