Weight Loss Case Study of a 48-year-old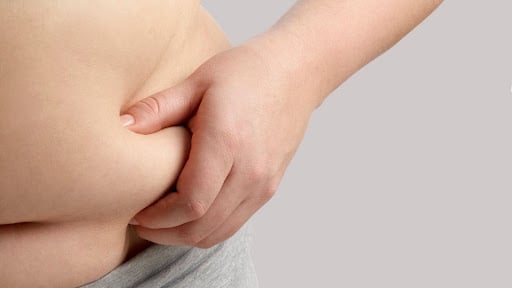 LIFE BEFORE ATMANTAN…
This lady guest has been coming to Atmantan for the past few years, but this time wanted to shed all the lockdown weight she had put on and came in for a 50 Nights Weight Balance Retreat with the purpose of weight reduction and also to control her consequent rising blood sugar.
World travelled and relatively an introvert in nature, this 48-year-old came in with a high fasting Blood sugar of 118 mg/dl (and was on medication), along higher than optimal weight of approximately 88 kgs (Desirable 65-70 kgs), with a high Visceral Fat reading of 17 (Desirable is 1-12), and a uterine fibroid.
At Atmantan, we believe that obesity is not only a disease but could also be a sign of many other chronic ailments within the body. Treating obesity is not only about lowering the number on a scale but, this should be achieved in a holistic manner; All other related problems associated with this obesity, should be addressed.
HEALING JOURNEY AT ATMANTAN…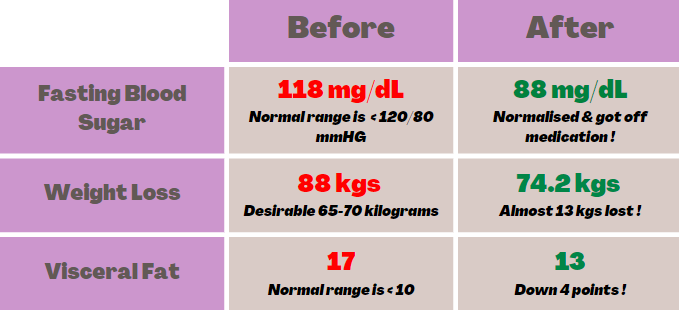 Please Note: These results may vary depending upon body type and pre-conditions.
The Doctors created a strict personalised daily programme with prescribed remedial therapies, personal training sessions, core-building practices, personalised yoga sessions along with cardio and fitness activities. Along with this, she was put on a low-carb, healthy fat diet along with Naturals' supplements Omega 3 (for heart health), Dia-Solve (for Blood sugar as it improves insulin sensitivity), Anti-Ox 3 (potent antioxidant combo) and Ovu Plus (Improves ovulation & also supports a healthy estrogen–progesterone balance).
All this worked in an integrated manner where the root cause of the problem was targeted and this helped in weight reduction as well. Within a month and a half, there was a complete turnaround in her health!
HER TRANSFORMATION | WEIGHT BALANCE 50 NIGHTS
The physical fitness of the guest improved tremendously, along with a weight loss of 13.8 kgs, and a much-improved visceral fat reading of 13. Her fasting blood sugar came to normal at 88mg/gL which got her off the medication. This was accompanied by a change in mindset, which now became positive and she was also successfully weaned off diabetic medications! This is thus a highly inspiring weight loss case study for all of us.