Is making the wellbeing of staff a beneficial business strategy? Well, yes it is!
"I, at a personal end, maintain a relatively healthy lifestyle because I have felt its positive impact on my work performance as well as in my routine itinerary. In recent years, a number of progressive organizations have adopted the approach of keeping up a healthy, engaged workforce, for a fit staff is the key to a company's ability to maximize productivity." – Nikhil Kapur, Founder – Director.
ABSENTEEISM V/S PRESENTISM:
As per a recent ASSOCHAM report, adopting corporate wellness programs will help in the reduction of absenteeism, which will help India Inc. save an income of up to US$ 20 billion in 2018.
Studies have also identified 'Presenteeism' as an even more dangerous threat. Defined as the practice of coming to work despite illness, injury or other distress, often resulting in reduced productivity, 'Presenteeism' is turning out to be more pricey than the direct costs of actual medical treatment. While the employee is available at the workplace, he or she is physically and mentally incapable of performing, in spite of having access to every resource at the place of work. The ASSOCHAM study further concluded that for every rupee that is spent on employee wellness, employers get Rs. 132.33 as savings on the cost of absenteeism and Rs. 6.62 back as reduced health care costs.
61% of deaths in India are caused due to these non-communicable diseases such as primarily cardiovascular and chronic respiratory diseases, cancer and diabetes. With augmented and inevitable use of technology and artificial intelligence, human beings these days, add value by being creative, innovate, empathetic and adaptable. While the human mechanical work is gradually plummeting, the need for being in good mental, physical, social and emotional health is still critical.
STRESS AND HOW TO MANAGE IT?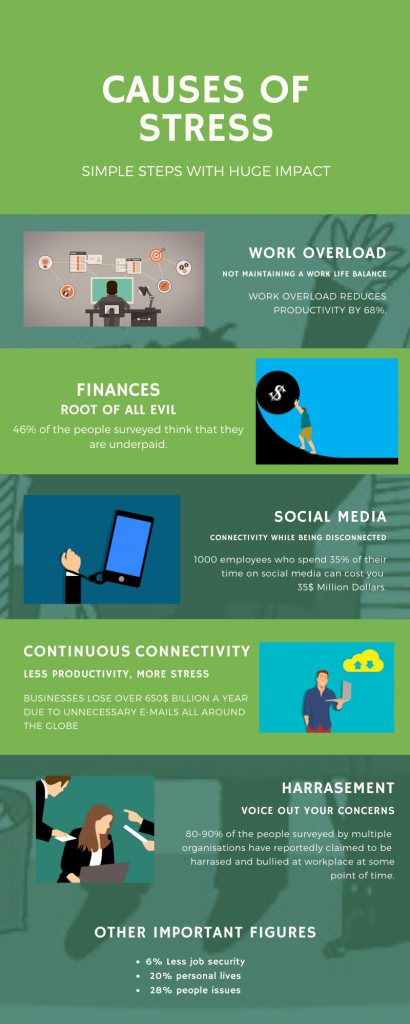 Stress can be defined as an emotional or mental state as a response to adverse external factors. Managing stress is extremely important as it can directly hamper the productivity of an individual.
The intrinsic environment of the workplace thus gets lop-sided thus reducing work productivity. Conversely, individuals who are able to manage their stress (read emotions), are able to maintain a positive work-life balance and are even efficient at decision making. With such insightful and informative reports and analysis, it is imperative that business organizations adopt and integrate the principles of healthy living for their labor force. Employee wellness must form part of the business objectives and long-term vision.
INSTIGATE CLEAN EATING HABITS: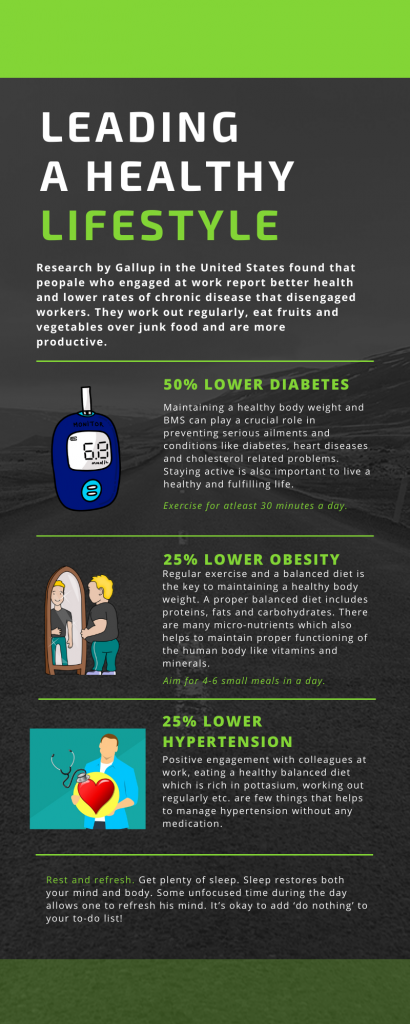 Another U.S. study by Towers Watson and the National Business Group on Health found that in In India, the changing dynamics of business and market trends have encouraged many companies to promote workplace wellness and to incorporate stress management techniques. From designing active workplaces that detonate vibrancy, facilitate entertainment, and give employees proper space and place for enhanced working, organizations are introducing newer ways of keeping their workforce dynamic and optimistic. Companies are also encouraging gyms and yoga sessions with personal trainers to improve fitness quotient, as well as to promote a healthy lifestyle amongst its folks. Use of apps like Healthifyme, and Stepathon for companywide programs and events, discourses to promote spiritual wellbeing, in addition to off-site tours, business corporations are taking proactive measures to keep their workers engaged and in high spirits. Corporate Wellness Program:
Developing corporations as per structured wellness programs and structures management techniques are changing the ways of holding conferences. Instead of doing it the traditional way – conference during the day and party during the night, new trends suggest offering employees with tools that help them de-stress and deal with their work-life balance better. The focus is more on picking destinations that help them unwind and gives them the opportunity for introspection. These wellness off-sites give the employees an opportunity to gain wisdom about their own well-being and equip them with tools to help them manage themselves better.
Atmantan, India's finest wellness destination located near Mulshi, Pune is also the pioneer in Corporate Wellness Programs in India, and offers customised retreats which can include Interactive Workshops on healthy heart, posture assessment and ergonomics, diagnostics – fitness and metabolic rate testing, fitness camps, group activities like aqua Zumba, dance, pampering spa treatments etc. Atmantan's Corporate Wellness Program equips individuals with tools to manage stress and anxiety and strike a healthy work-life balance, together with enhanced insight towards life and self. The aim of our customized corporate programs is to provide the team with a unique experience that incorporates stress management workshops, education in healthy nutrition, physical fitness, mental health and indulgence in therapeutic spa therapies. Armed with these tools, the team members become well resourced to make positive lifestyle choices and transformations i.e. it improves all aspects of their well-being. Stress Management and corporate wellness for employees lead to stronger organizational work culture, less sick days, employee retention, talent acquisition, teamwork, and enhance employees' commitment.
Visit for more details.