At a recent gathering, I heard someone make a statement that Ghee is the lubricant that goes straight to our joints… the audience seemed gullible and assumed the joints of our body are like door hinges where we apply some oil when they squeak. Everyone seemed to believe that consuming Ghee is the sole formula to avoid joint pain. As a student of Sports Nutrition and a triathlete myself, I knew that maintaining joint health requires an integrated approach. I am writing this piece to help us all make an informed decision!
What are the Causes of Joint Pain?
There are several causes (all avoidable) for joint pain. Dislocation and broken bones, arthritis, osteoporosis, fibromyalgia, repetitive movement (like in endurance races), and inflammatory diseases such as gout, bursitis, and lupus, etc are the major causes for joint pains. Even weak muscles are a leading cause of joint pain. Muscles are actually designed to keep the body aligned and keep the pressure off the joints. However, weak muscles can impact our biomechanics and lead to more pressure on the joints resulting in wear & tear and pain. Besides these pathological conditions, there is also age-related degeneration. However, the intensity of these issues can be minimised and or delayed if we adopt certain preventive modifications in our lifestyle.
I am keeping aside the topic of joint pain caused due to ligament tears and poor post-surgical recovery.
4 Natural Ways to Reduce Joint Pain and Inflammation
Pain in the joints can become debilitating and hence it is important to ensure that one takes adequate steps to reduce inflammation of the joints and bring down inflammation. Some of the measures to prevent joint pain are:
Take steps to reduce, control, and maintain an optimal weight to height ratio. Excessive weight (obesity) puts a huge strain on the joints (particularly the knees), which results in joint pains.
Physical activity (joint use) ensures the optimum circulation of the synovial fluid throughout the joint. Let me introduce the synovial fluid – it's a fluid having egg white-like consistency that helps in the frictionless movement of the bones. Low impact cardio is fabulous of getting some movement and improving joint support.
Flex your muscles: strong muscles take the pressure off the joints. We don't need you to be Arnold strong… but even a little strength makes a big difference.
Best foods for joint health:

Ensuring optimal intake of Vitamin D and Calcium, since both are essential for bone growth and strength. While sunlight is an excellent source of Vitamin D, one may need supplements to overcome the deficiency. 
Daily portions of vegetables and fruits provide nutrients essential and are anti-inflammatory in nature 
Food rich in healthy fats including Omega 3
Avoid sugary and refined carbs, non-veg food if you are suffering from inflammatory conditions in your joint.
As I wrote this piece, I reached out to Dr. Kaustab Radkar, 25 x Ironman Finisher for his recommendations for joint/musculoskeletal health.
Dr. Radkar shares that "the simplest thing one should do to maintain joint/ knee health is to properly warm up + cool down, stretch and do routine strength training at least 2-3 times a week. In terms of diet adding adequate protein, along with Vitamin D supplement is important especially if you are into endurance events. For women adding calcium in their diet is also important to reduce the risk of osteoporosis."
Does Ghee Help to Provide Joint Lubrication?
You might say I missed mentioning Ghee amongst healthy fats. While it is recommended to use one spoon of 'desi' ghee to help with joint problems, science does not promote it as the silver bullet for joint pains. When one begins consuming ghee, it is imperative that carbohydrates and calories got from other foods are reduced else a person can end up with significant other health problems.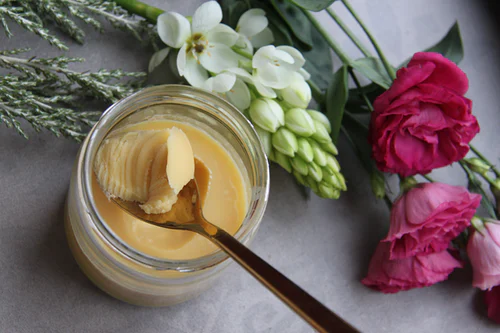 Dr. Manoj Kutteri, Medical Director, Atmantan Wellness Centre shares that "Our joints are an integral part of the body systems which undergoes constant wear and tear while we carry out our day to day routine. It is to remember that we do not have a reductionist formula to fix our health. Though we talk about single remedies for many diseases, it is not a quick fix for any damages that may occur to us due to wrong lifestyle habits. We should always accept and welcome a wholesome approach that includes positive dieting, exercising, relaxation and mental practices."
Atmantan's experts from the realm of Ayurveda science share some perspectives about 'desi' ghee benefits for your body:
Ghee is a carrier of the herbs since it has high penetrating qualities and is able to reach all the nutrients from food directly to the tissues
Ghee has the full range of fatty acids (short, medium, and long-chain), both saturated and unsaturated, which helps in the production of butyrate that fights infections and inflammations
Omegas 3 and 9 are complemented by Vitamins A, D, E, and K making ghee beneficial for bones.
Ghee is a prebiotic and thus helps to alter and settle the PH balance of the gastric flora and the composition of organisms in the gut microbiome, which in turn helps to maintain and develop bone and joint health. This, in turn, helps to nourish and prevent the joint pain & breakdown of bones
Preserving the gastric flora, in turn, helps post-menopausal women by balancing the parathyroid hormone
The purity of Ghee has a deeply penetrating and nourishing quality
In Conclusion
Without making lifestyle changes such as reducing intake of calories from other foods, considering the co-morbidities one may already have, high cholesterol, obesity, and other health problems, it is not advised to start or increase the consumption of ghee to improve or manage your joint health. We need an integrated/holistic approach to manage our joint health.
Our musculoskeletal system is made up of muscles, bones, and joints, teamed up with cartilage, tendons and ligaments, all of which enable us to undertake our daily activities.
Dr. Navita Basiwar, Senior Physiotherapist, Atmantan Wellness Centre share that "when some of these aren't working in harmony, the comforts of our body that we take for granted are threatened to a level of permanent damage; Atmantan's Restorative Physiotherapy retreat can help you find a solution to this!"
This retreat focusses on restoring mobility, strength & improving quality of movement such that the desired level of physical comfort is achieved. Our team of experts are specialised in treating a wide gamut of orthopedic related conditions, may it be osteoarthritis, ligament injuries, sports injuries, post-surgical rehabilitation, joint instabilities, restoration of muscle and joint functions, chronic musculoskeletal conditions or even certain neurological related conditions.