Case Study on Hadlund's Deformity & Heberden's Nodes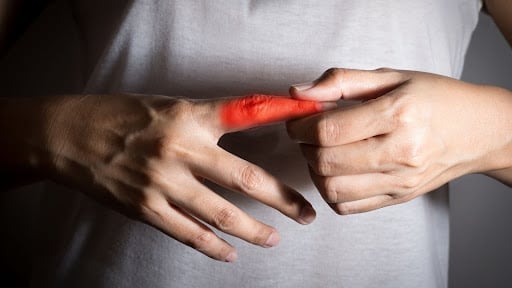 LIFE BEFORE ATMANTAN
This 57 year old man with severe pain and stiffness in the fingers of his right hand was also suffering from severe leg and ankle pain. He could barely lift his right hand above the shoulder level, (and till the shoulder level also he could only lift with extreme discomfort, and only with support); it was extremely painful to also move his right arm back or up. Despite extensive physiotherapy in the city, he did not get any relief or result.
HEALING JOURNEY AT ATMANTAN
He decided to check into Atmantan for a 7 Nights programme. He was worried about his pains and depressed also due to digestive issues. After a thorough physical examination, diagnostics (MMT) and a postural assessment was carried out and he was put on a personalised Master Cleanse (for Gut cleanse) and Physiotherapy programme.
The diagnosis results showed acute muscle weakness in the back and abdominal muscles. His pain scale scoring and range of joint movement that had been noted were then worked upon almost every day. Along with rehabilitation, he was also prescribed personal Yoga sessions, Colonics and other cleansing and anti-inflammatory therapies.
With a combination of electro therapy and exercise therapy, all treatments were prescribed with a purpose of strengthening the muscles, core building, and mobilizing the joint and to alleviate his pain.
He was put on a cleanse diet of gradual Lean to Liquid to Lean (vegetables and herbal juices, soups, and salads). This inhibited the inflammation and repaired the gut! He was also supplementing with Naturals Defence Max (Gut friendly & has anti-viral properties), Natflam 6 (Pain reliever and anti-inflammatory), Omega 3 Fatty Acids (for general health) and Pro-Collagen (Improves skin, bone and cartilage health).
HIS TRANSFORMATION | MASTER CLEANSE & RESTORATIVE PHYSIOTHERAPY | 7 NIGHTS

By the end of 7 days, his joint stiffness reduced and he felt absolutely close to no muscular pain either. His range of movement had improved by a 100%! He had a fat loss of 3 kilograms and his visceral fat lowered by 2 points!
There was significant improvement in his overall joint movement. He could now perform most of his daily activities, of walking and climbing without much discomfort.  There was a very positive change in his fine motor skills as well such that he could now effortlessly even write his signature!  Another great achievement was his tremendous increase in his muscle strength (He could now lift more than 1kg with his hands and 500gms with his fingers!)
He was asked to continue with his diet and supplements along with maintaining a recommended active lifestyle.