Case Study of a 33-year-old Suffering From Asthma, Sinusitis & IBS.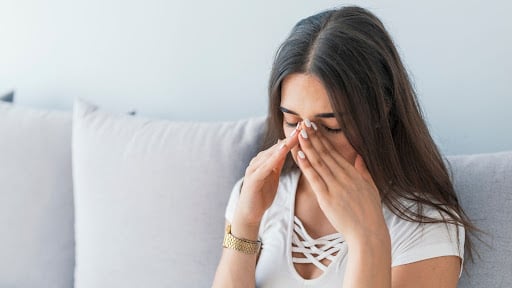 LIFE BEFORE ATMANTAN…
This was an asthma case study, where a young lady guest, was completely boggled down with her many health concerns of eczema, allergic rhinitis, sinusitis, asthma, mild IBS (Irritable Bowel Syndrome).
Strong-willed and determined, this 33-year-old decided to come to Atmantan for a solution; she was completely exasperated and tired of taking multiple medications every day. She also had uncontrollable itching and dryness especially near the elbow knee and waist areas.
HEALING JOURNEY AT ATMANTAN…
At Atmantan, after a detailed consultation and diagnosis of her blood reports and other tests with the Doctors, she was advised to go forward for a minimum of 7 Nights Journey through Yoga Retreat. Her treatment protocol was diagnosed based on her symptoms; Focus was on eliminating the root cause.
The approach was completely holistic. She was advised a change in her dietary plan with controlled carbohydrates, along with pre and probiotics to replenish the gut. All this was coupled with various cleansing therapies and prescribed Yoga too. She performed Yogic Kriyas and Yoga classes under guided supervision and was prescribed NATURALS supplements of Allergy Care (anti-inflammatory & relieves from acute allergies), Gastro Care (supports gut health and protects the mucous lining of the stomach) and Breathe Easy (Improves respiratory efficiency and detoxes the lungs) twice a day. 
All this played a vicarious role in supporting her treatment ensuring a faster recovery. Transformable results started appearing within the first 4 days!
HER TRANSFORMATION | JOURNEY THROUGH YOGA | 7 NIGHTS
By the end of a 7 Night stay, she felt a progressive reduction in her Sinusitis. On the last two days she also stopped using the inhaler. Even her digestion and bowel movements had significantly improved along with a boost in energy levels (for an ibs case study, these were great results). Upon the completion of her programme, she was already experiencing a 70% relief in her pain and other symptoms while at Atmantan! She was now determined to continue this wellness journey back home as well.