A lot is realised when no words are exchanged. Become a better listener, find inner peace and improve self-mental health with the power of mauna (silence).
Listen to the Silence until you hear your Soul

– Jernej. Graj
After you read this article dear Reader, take 10 minutes off. Turn your phone on silent mode, turn off the radio and pause the web series you have been binge-watching. No, you cannot scroll through your Instagram, and pending emails may wait. Sit back and soak in the stillness.
What do you hear?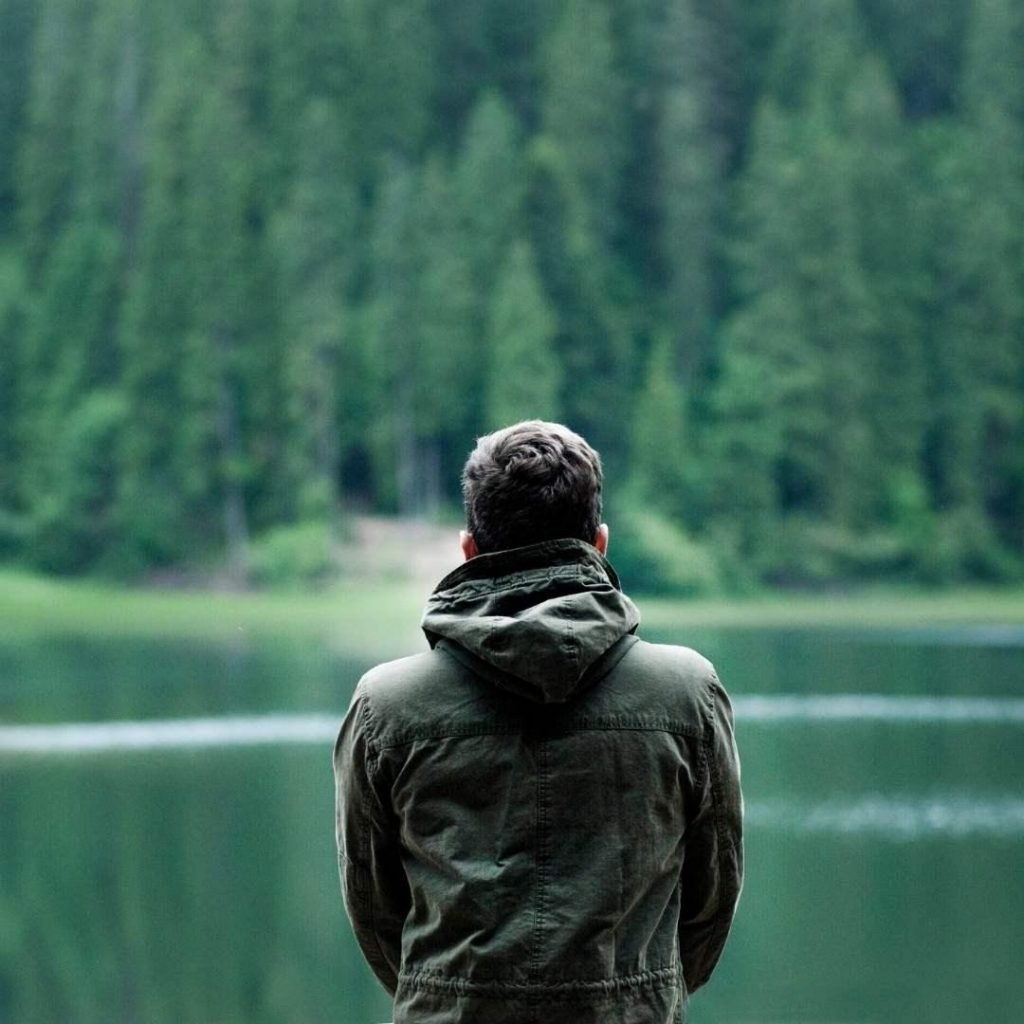 The birds chirping, the kitchen vessels clinking, the next-door neighbour chattering. Work past that and tune in deeper. Chances are you will hear your thoughts. The endless train that chugs throughout our mind in our waking hours. In Hindu philosophy, Mauna (silence) refers to the stillness of the mind or finding inner quietude which can be achieved through controlled speech and practice.
According to Bhagavad Gita, mauna is about training our minds, not just our mouths, to be silent. It is deeply transformative because it helps us quiet our thoughts and, more importantly, acknowledge the background of Stillness that is our Real Nature.

– Hridaya Yoga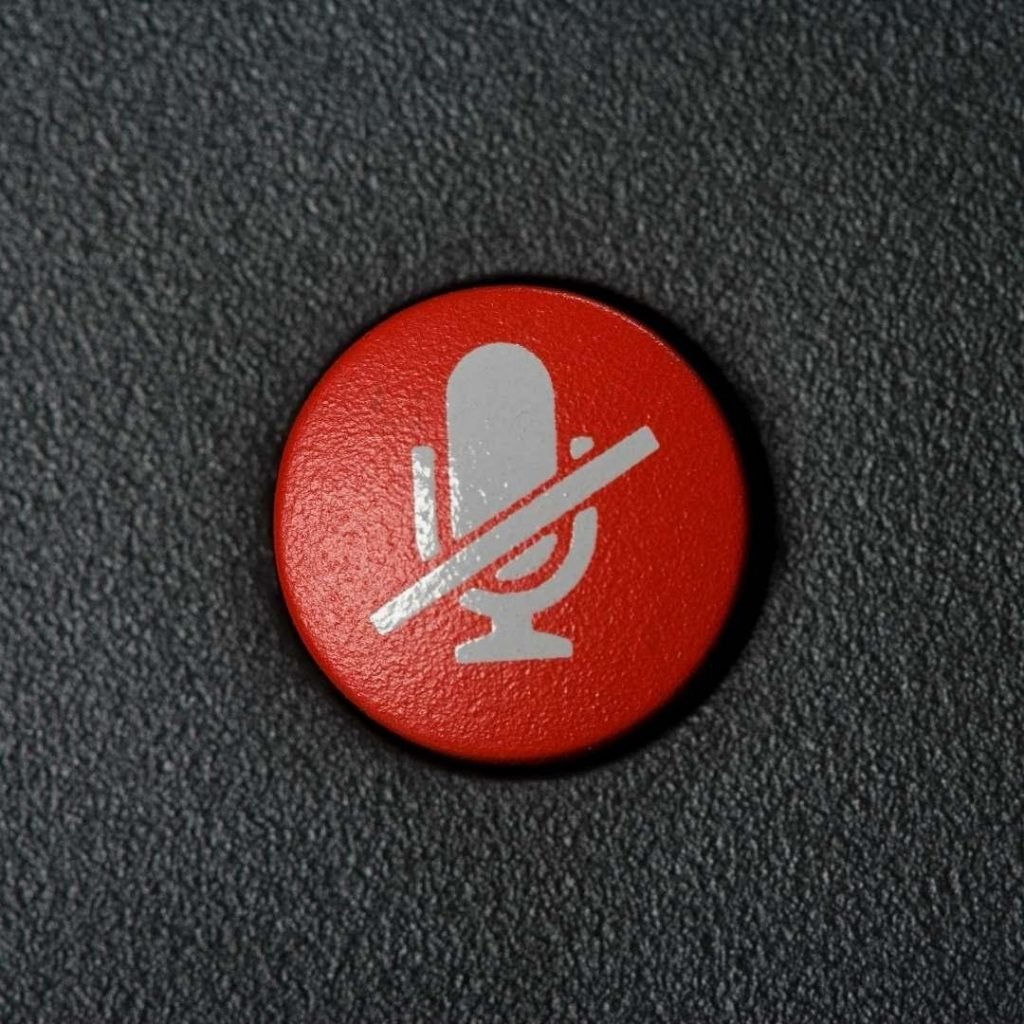 On a usual day, when we take part in conversations, how well do we really listen to the person talking?
Our mind is busy concocting a response. A vow of silence will take you on a journey that quietens the mind and in turn, brings one inner peace. While many saints and Masters have found wisdom through silence, taking silence for a few hours to days can help enhance our lives.

There's a story in the Upanishads of a father who sent his two sons off to a sage to learn about the Brahman (absolute reality). When they returned, he asked the first son what he had learned. The boy expounded on the many attributes of Brahman. When he was finished, his father asked the second boy, and he simply remained silent. This pleased the father immensely. He said to the second son, "Ah, I see, you now know the truth of Brahman (absolute reality)".

Watercolourist Prashant Prabhu, who started going into silence since 2006, shares how to Become a Better Listener :
"There is a great benefit to be gained from silence in practical life. When people talk to us, our mind spontaneously begins to prepare a counter-reaction. We are actually waiting for them to stop so we can speak.
Most times we don't even listen to our own talking that goes on inside the mind. This is a misuse of the power of talking. All this talk will lessen if you are not going to talk for the next few days. Since outside discussions will stop, some part of the unnecessary inner talk will drop down too."
Plan Your Silence
Start small with a few hours in a day. Once you have dabbled with the idea of being silent, begin with three days and go up to 21 days. It should be carried in totality and not sunrise to sunset commitment.
There is only one rule: no talking whatever happens, wherever you are.
Your silence is personal but it is imperative to keep all around you informed with all seriousness and sincerity. Don't make it an inconvenience for anyone. Don't go in silence when you know there will be a lot of work. If you are on job then choose days of holidays. Three days of good silence is better than seven days of troubling someone.
The Practice
The practice of silence doesn't demand a religious ritual or fasting.
Don't shy away from society by locking yourself in. One can go about a normal day in society without the use of words.
Use chits to give directions when you use public transport or order your vegetables or even as you run errands.
However, exchanging notes to converse with friends and family is a no-no.
Reply to urgent emails but avoid initiating new conversations. Text when needed but avoid light banter.
If something happens which is not to your liking let it be. Get on to learning to adjust.
What to Expect
As time passes, by the end of a week of going into silence, the mind quietens. But thoughts that occur now and then may trouble you in spurts. Amid the overall silence, the heightened feelings are aroused and memories come back which may seem troublesome. And in these situations, meditation helps. A long silence is not recommended without any meditation background.

All you have to do is begin by watching your thoughts and feel the sensations and learn to absorb these feelings as and when they surface. Some feelings need to be felt, and accepted, while some others need to be sorted and let go… all this will come to you in the form of the voice of your soul only when you decide to go into SILENCE.
Silence is not an absence but a presence, not emptiness but repletion. Silence is more than just a pause; it is the enchanted space in which things open up, and surfaces fall away, and we find ourselves in the midst of absolutes. In silence, we often say that we can hear ourselves think; but what is truer to say, is that we can hear ourselves not think, and so beneath our daily selves, into a place mere thought allows. Silence is a way of clearing space & staying time; of opening out, so that horizon itself expands, and the air is transparent as glass. Silence is responsiveness, and in silence, we can listen, and in listening to the self, the wind, the sea, we can hear something else beating far behind.

– Pico Iyer in the book Living Wisdom
Choosing to Wear a SILENCE Band at Atmantan Wellness Centre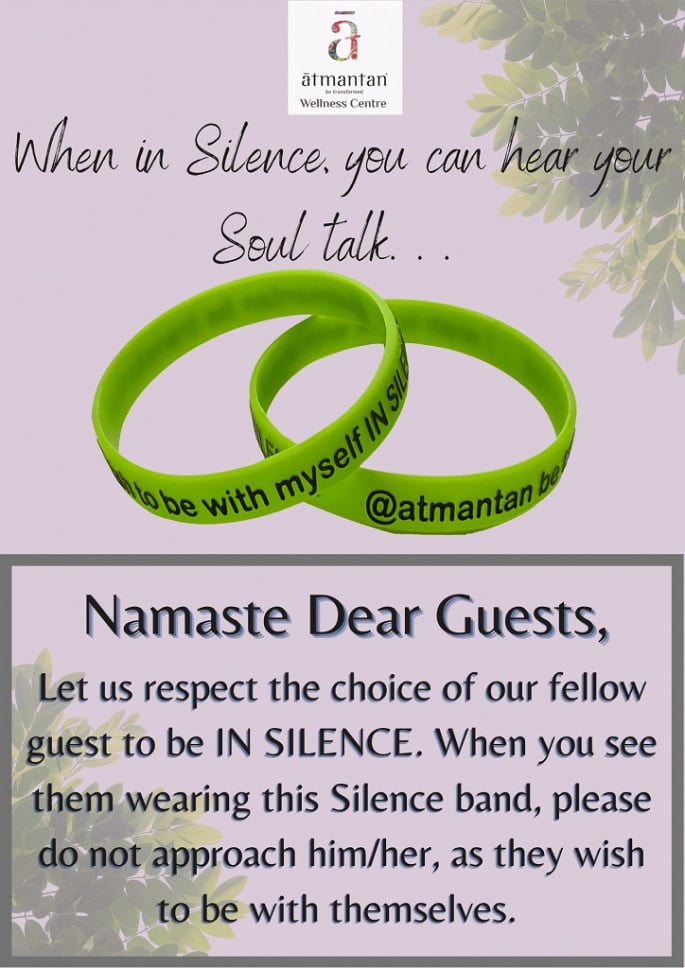 Atmantan offers Silence Bands (to be worn around the wrist) to those guests who wish to be IN SILENCE and don't want to be disturbed by other guests. They take this time to immerse themselves in the wellness of the atma (soul) and mana (mind) and look within. When in silence, we can really hear the voice of our soul…
This practice was incorporated at Atmantan in the new normal, (we felt that this was highly needed after the year of stresses that people had had) and this fabulous suggestion actually came from one of our young guests – Ms Khushboo Beniwal.
We hope this article helped you. Share your experience with us!