"Losing weight is hard. Being overweight is hard. Choose your hard."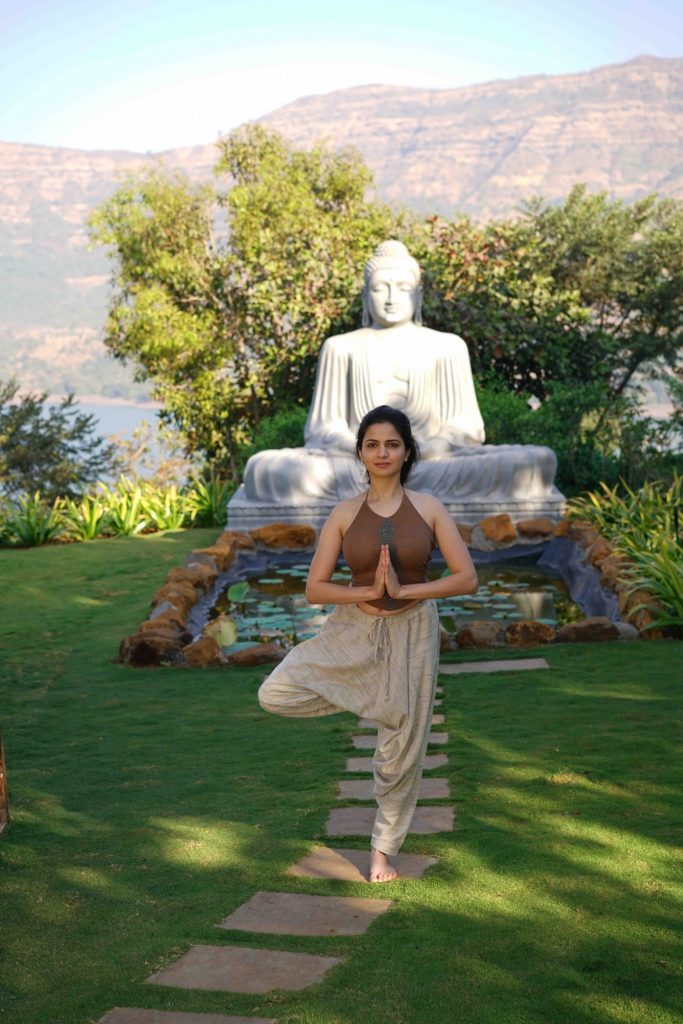 Movement is a human trait, and it should be exercised (pun intended) regularly, to keep muscles going, blood flow steady and organs active.
Weight loss should be pursued the right way for the necessary triangular balance of Body, Mind and Soul. Movement is a human trait, and it should be exercised (pun intended) regularly, to keep muscles going, blood flow steady and organs active. It also plays an active role in keeping a check on physical and mental wellbeing.
The causes for weight gain vary from a sedentary lifestyle, diet, imbalance in the gut microbiome, hormonal imbalance, poor eating habits, genetic causes and stress induced. Weight gain has many side effects and consequences too: Chronic diseases like diabetes, heart problems, depression, stress, weak back, hormonal disorders and even impotency and infertility issues.

Yoga is the safest approach to lose weight when practiced under supervision.
The holding of a yoga posture makes a practitioner focus on breath work and improve flexibility one cycle at a time. Over time, a body's core endurance increases. This helps balance stress, hormones are charged, the nervous system is calmed and weight loss becomes a natural outcome, not a forced agenda.
1. Noukasana (boat pose)
Yoga poses are inspired by all things around us, nature as well as manmade. A boat is a vehicle that takes us from one end to the other. Be it choppy waters, or still lakes, the role of a boat is to transport.
In the same way, the boat pose stretches muscles from the chest to abdomen muscles releasing tension and opening blocks for improved metabolism and thus, weight loss.
This is an excellent asana to strengthen the abdominal muscles, along with arms, thighs, and shoulders. It aids the liver, pancreas and kidney and regulates blood flow at sugar level.
PRECAUTIONS: Avoid if you have low blood pressure, migraine and during your menstrual cycle.

2. Dhanurasana (Bow pose)
The asana helps regulate the pancreas and is recommended for people with diabetes. It also expands the thoracic region, increases appetite and reduces abdominal fat.
The bow has a taut form, and for the body too, a well done bow pose will strengthen the muscles, and stretch the lazy, stubborn fat.
In fact, Paulo Coelho has taken the work of an archer and written a self-help book called The Way of the Bow. A quote reads: 'Each arrow flies differently. You can shoot a thousand arrows and each one will follow a different trajectory: that is the way of the bow.'
PRECAUTIONS: Avoid this asana if you have high blood pressure, back pain, headache, and migraine or have undergone abdomen surgery.
3. Salabhasana (locust pose)
This asana works on your posture and counters the effects of prolonged sitting and postural compromises due to computer work. It helps relieve lower back pain, can correct slouching and strengthens your back muscles, works on the entire core especially the muscles supporting your spine.
Weight management may begin with the idea to lose weight but it begins with strengthening the body, which can then adopt workouts that help the transformation inside out. The locust pose works on the upper back muscles that take in so much tension of long hours of sitting in front of a desktop, absorbs fatigue and causes slouching.
A locust is a sign of doing things with ease, and for being supple. So lift that torso and open up to the new changes you want to make in your body shape.

PRECAUTIONS: People with a weak spine, low bone density and neck injuries should avoid this asana.
4. Trikonasana (triangle pose)
Trikonasana is a standing asana that strengthens the legs, knees, ankles, arms and chest. It improves digestion, reduces anxiety, stress, back pain and sciatica.
A triangle is the ultimate shape of balance. It may be equilateral, acute, obtuse or even at a right angle. It is important to understand that each and everybody works towards finding its own steady balance.

This pose requires a good stretch, an alert mind and a patient hold of the pose. We pick this pose to prepare your physical and mental being for trusting that the body can do so much more than you think.
PRECAUTIONS: Avoid if you suffer from migraine, diarrhea, low or high blood pressure, or neck and disc herniation or back injuries.
5. Virabhadrasana (Warrior pose)
This pose is named after the Hindu God Shiva, and it combines the standing and stablising actions of the body, as it improves endurance.
Chest, lungs, shoulders, neck, belly and groin area – prepare all of these for action! Become the warrior against weight loss.
This is a challenge to oneself as it puts both legs in a different duty of a lunging stand, one to balance and the other to carry the weight of the body. The hands raised to touch the sky above, and extend them outside the body. Sometimes, we are our own enemies and it's time to fight the lethargy!
Precautions:
Not recommended for people with spinal disorders and also those with high blood pressure should definitely give it a miss.
At Atmantan, we believe in result oriented transformations and the same is evident in our weight balance programme. This weight loss retreat is effectively crafted to personalise an individual's needs and requirements. Our weight management programmes have diagnostic tools that helps prioritise the inflammation and inner health, which actually culminates into a weight concern. As you enhance metabolism, correct your muscle to fat ratio, improve visceral fat, you also achieve multiple health benefits. Our team of Doctors and Yoga teachers all are enable you to train the mind and prepare the body to inculcate yoga movements for best results.